Shop Safe. 100% Money Back Guarantee. Fast Service.
WHAT DO WE PRINT?
We can print your brand, logo, picture or whatever it is you'd like, onto not only t-shirts but also other clothing apparel, including polos, sweaters and hoodies, dress shirts, sportswear, jackets and other outerwear, head wear, and accessories. We can create a customized product in minutes and will even provide digital prints or versions so you can get final approval on the design and overall look of your product before it hits production. There is no real limitation regarding what you can put on the products as it can be a logo, brand, image, or artwork.
Click on Images to view some of our Las Vegas t-shirt printing samples. Request a quote so we can help
you get started on your project today!
SCREEN PRINTING: HOW DOES IT WORK?
Screen printing, which is the traditional method that has been around for decades, requires a stencil or screen of the logo, image, or artwork that you would like on your product. Once this stencil is produced, it is then applied to a film. This film is then coated, exposed to heat through light, and then washed off with a pressure washer. Next, we place the film onto the product and pour ink over it while taping off the areas around the print. The ink is then pressed and lifted onto the product as the ink seeps through onto the material. The product then enters the final cleaning station here excess ink is cleaned and the final product is inspected for quality and detail assurance.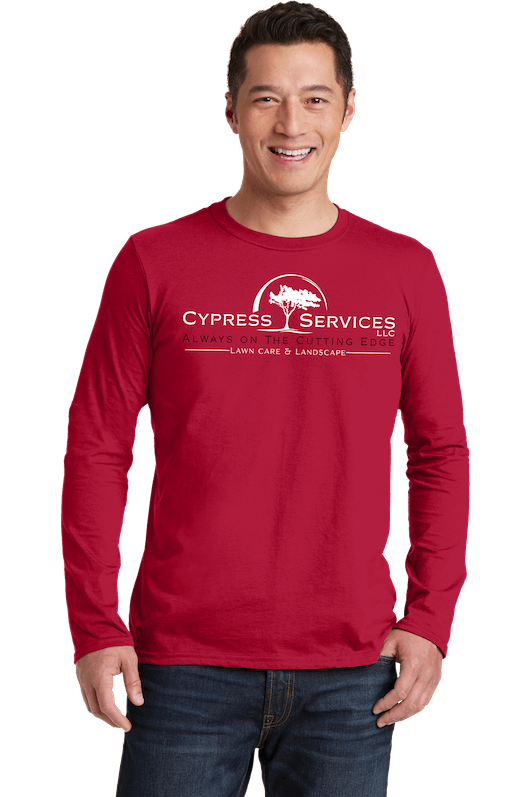 WHEN TO CHOOSE SCREEN PRINTING?
Screen Printing is often used because it produces vivid colours, even on darker fabrics. The ink or paint also lies in layers on the surface of the fabric, which gives the print a pleasingly tactile quality.
The technique is also favored because it allows the printer to easily reproduce a design multiple times. Because the same stencil can be used to replicate a design again and again, it's very useful for creating multiple copies of the same garment or accessory. This makes screen printing a very efficient technique for creating large batches of custom clothing for sports teams or work uniforms.
When carried out using professional equipment by an experienced printer, it's also possible to create intricate multicolored designs. While the complexity of the process does mean there's a limit to the number of colors the printer can use, it does allow for more intense coloring.
QUALITY ASSURED
Our friendly and professional staff at Smart Printing Las Vegas understands how frustrating it can be when your shirt loses its quality, especially right after you just bought it. We pride ourselves on knowing we can and will provide the best products because we use the finest material to create them. When you use our services to print your logos onto shirts, you'll be amazed by how high the quality of your shirt will be.
Our team has worked with a variety of businesses in Las Vegas, Nevada and are never afraid to meet a challenge head on. We will work with you to make sure your personalized logo matches and fits the garment you select. Our suppliers only provide us with the best name brands of apparel, such as Nike, Adidas, Hanes, Fruit of the Loom, and Eddie Bauer – just to name a few.
BRANDING
Printing your company logo or statement onto your uniforms has many added benefits.
Create a strong sense of unity and pride among company employees.
You are a walking advertisement! Wear a beautifully made and customized shirt while marketing your business.
It's perfect for large events. Having your team exhibit their logo will look classy and professional, as well as, create more awareness of your brand.
Having happy employees combined with great advertising through printed shirts, gives your company a better chance at improving its image. This applies to organizations as well. If you want to make your organization look more established, then having a set of printed shirts is a great first step. An embroidered jacket or dress shirt shows that you are serious about your objectives and want more exposure. If you're holding an event for your organization, printed shirts can help you catch the attention of someone passing by.
WHY PRINT WITH US?
Smart Printing Las Vegas is one of the industry's finest and most trusted t-shirt screen printing and embroidery companies. We have eliminated the middle man by doing all of our production in-house. Our suppliers do not charge us for shipping, which further allows us to price our services so competitively. Also, our location in Las Vegas contributes to our extensive clientele, allowing us to get a hefty amount of business from hotels, casinos, and resorts. Whether you need shirts for the workers in your office or are just looking to sell screen printed apparel, we offer the best prices without sacrificing quality and guarantee satisfaction.
Las Vegas is one of the tourist capitals in the United States as it consists of a countless number of businesses, all trying to cash out on the approximately 40 million visitors per year. Regardless of the economic condition, the amount of visitors per year has surprisingly stayed relatively steady. Souvenirs are massively popular in tourist venues as it is hard to find a corner without a gift shop. Let us help you differentiate your company from the rest by putting your brand or logo on some apparel. This will surely increase awareness and recognition in areas with high volumes of traffic.
This is a small investment to your business that can lead to a large return. You won't have to worry about the quality of our work because we are one of the best in the area.
If you are located in the Las Vegas area and need printing on shirts or other apparel, call us today at (702)-251-8899 or Request a Quote. We'll be happy to give you a free quote or answer any questions!